2012 (Current) Outreach


June: Vineyard Sustainability Surveys -As part of the establishment and demonstration of a pomace processing line, local vineyard energy surveys have been carried out in Nebraska, Iowa and South Dakota since 2011. These surveys have allowed us to establish industry relationships as well as feasibility studies for grape-waste (pomace) collection.
July: Energy Fair Bus Tour - The third annual bus tour in partnership with various local organizations was another success. In the future, we hope to make a set bi-annual bus tour focusing on wind and solar technologies. More information about this will be published here in the future. A spring 2013 bus tour will be the next available educational opportunity (aside from the internship program) with NRES.
August - September: State Fair - demonstration booth-Interest in renewable energy is immense here in Nebraska. At the State Fair NRES has the opportunity to have face to face conversations with self- sufficient farmers and individuals interested in self-reliance and sustainability. With the help of NRES and Tighe-Bio we recycled close to 1000 gallons of waste vegetable oil.
Past Outreach

2011:

The 3rd annual Nebraska Energy Fair provides a unique chance to learn about renewable energy production, energy conservation, energy policy, environmental impacts and financial incentives. Plan now to attend one or both days!
Friday July 22: The Bus Tour is a rare opportunity to visit public and private sites utilizing solar, wind and biomass technologies to produce renewable energy. Cruise in air conditioned comfort and enjoy an on-farm lunch featuring locally grown foods. Space is limited. Last year's tour sold out quickly - so register today!
Saturday July 23: The Conference - Enjoy a full day of presentations, exhibitors and networking opportunities. Learn from knowledgeable, experienced consultants, technicians, energy advocates and policy analysts. Choose from more than a dozen presentations sure to enlighten, inform and inspire.
2010: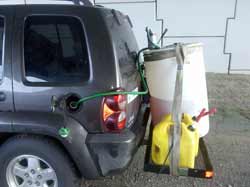 2010 cross country B-100 road trip
July 23 - 24 2010 Nebraska Energy Fair
Download the flyer (418 KB pdf)

See more past events by visiting the Outreach Archive.